Product Description
1325 cnc wood engraving machine with T-slot table
1, woodworking: 3D wave plate processing, cupboard doors, wooden doors, screens, process window processing, video game cabinets and panels, computer table and Plate furniture auxiliary processing.
2, advertising: advertising signs, logo production, acrylic cutting, a forming system module, a variety of materials advertising production of decorative products.
3, mold: a sculpture of copper, aluminum, iron, and other metal molds, as well as artificial marble, sand, plastic sheeting, PVC pipe, wooden planks, and another non-metallic mold.
4, other: a variety of large-scale relief sculpture, video carving, widely used in gifts.

Product Description
1. 3.2KW Utech Water cooling spindle
Because the accuracy of cnc router machine greatly depends on the spindle. The High-quality SESAME series CNC Router machine comes with 3.2kw water or 3.5 air cooled high-frequency spindle. This precision spindle requires no maintenance, uses industry standard ER collects. Fully programmable speeds from 6000 to 24000RPM, and comes complete with pneumatically retractable vacuum hood.
2. 3.7kw Xinfutai/Fuling Inverter(VFD).
The whole electrical system is consisting of a CNC machine, variable frequency drive, time relay, and brake assembly.
We adapt 3.7kw VFD, Greatly improve the machining accuracy and production efficiency of CNC machine, play an important role in product quality improvement, production increase, cost decrease, automation level increase, and maintenance reduced.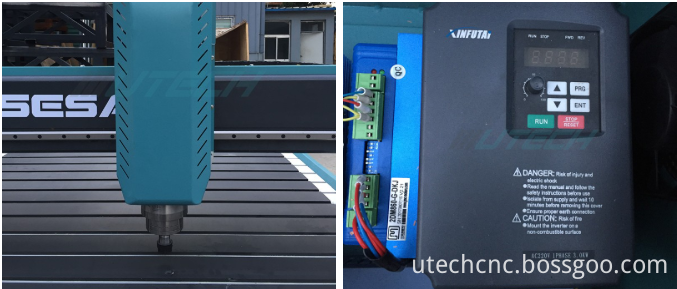 3. T-slot table with PVC.
A T-Slot Clamping Table is the most simple table structure that fixes a working object through a clamping kit. Without the requirement of 380V 3-phase electricity to power a vacuum pump, it's the only table solution for our Sign-Making Routers that target the home-based businesses and hobbyists.
4. Z-axis Transmission Way.
TBI High-Precision Ball-screw Transmission
1) Higher efficiency than traditional ball screws.
2) Gothic groove shape, the shaft direction clearance can be adjusted to a minimum and can be easily transferred.
3) The internal circulation method is applicable to many different scenes, and the circulation method is selected according to its own needs.
4) Use rigorous materials, high heat treatment and processing technology to supply durable products.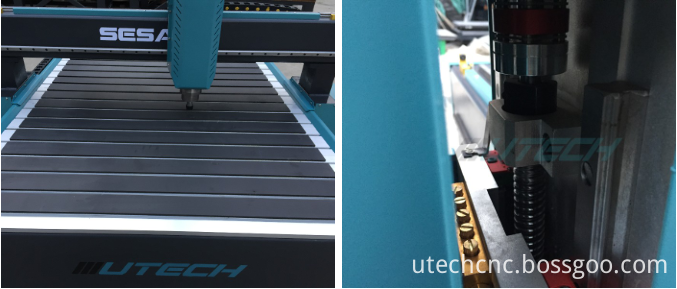 5. X, Y-axis Transmission Way.
Precision 1.25 module helical rack gear. Helical teeth gears provide continuous engagement along the tooth length and are often quieter and more efficient than straight tooth gears and also offer higher loading for same rack width. Helical tooth gears resemble spur gears in the plane of rotation but include teeth that are twisted along a helical path in the axial direction.
6. Transmission guide.
PMI Linear guide+High assembly Flange slider
(1)High positioning accuracy, high repeatability
(2) Low frictional resistance, high precision maintained for the long period
(3) High rigidity with four-way load design
(4) Suitable for high-speed operation
(5) Easy installation with interchangeability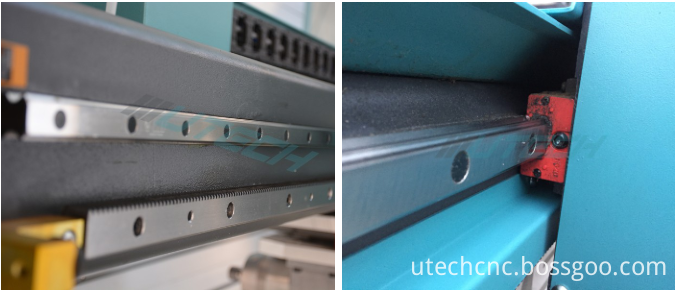 7. Stepper motor.
The stepper motors are installed on all axes to ensure precise positioning of the gantry and the spindle in accordance with a predetermined program at high speed. Stepper motors are well proven high degree of reliability.
The machine is installed 4 sets of motors and Driver. Y-axis use double motors drivers way.
8. Utech Patent 1:4 Reducer Structure.
Patent design 1:4 gear reducer install on the driving motor, makes the motor is more powerful, and having a long time service life.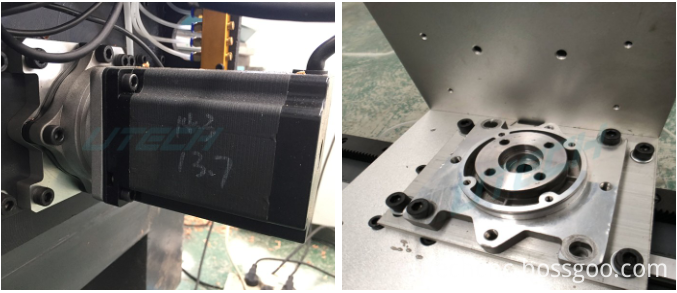 9. Stepper Driver.
Selecting a chopper driver and configuring it for a specific motor requires a good understanding of both the motor and the controller. Mismatched motors and drivers can result in disappointing performance. Or worse: damage to the motor and/or controller. we deal with the most important part: making sure that your motor and driver are compatible
10. Famous electrical components.
CNC electronics are a vital part of any CNC machine. Aside from the Motors and CNC controllers, There are many electronic components that assist in the machine operation.
Many people feel more threatened by electrical components than the mechanics of a machine. we create a fully working machine.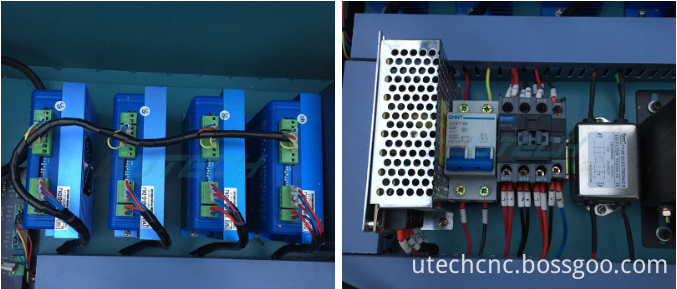 11. Mach3 control system.
Mach3 turns a typical computer into a CNC machine controller. It is very rich in features and provides a great value to those needing a CNC control package. Mach3 works on most Windows PC's to control the motion of motors (stepper & servo) by processing G-Code. While comprising many advanced features, it is the most intuitive CNC control software available. Mach3 is customizable and has been used for many applications with numerous types of hardware.
12. Tool sensor.
This device takes the guesswork out of tool changes and ensures that every tool path that you run is accurate. Consistent Z height across tool changes is critical, especially when running multi-tool jobs like cabinet work, raised panel doors and intricate 3D carving projects.
CNC Tool Sensor allows for easy and accurate "Z" zero position for single and multiple tool changes through the program.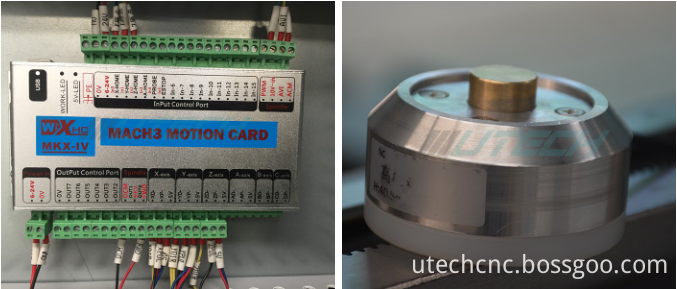 13. Manual oil lubrication system.
Protecting machinery is an ongoing responsibility. To guarantee high performance over the course of time requires both long-term and spontaneous maintenance. A manual lubricator not only distributes grease or lubrication for a variety of large machinery, but it also allows operators to do so in a timely manner.
14. Double Insurance Emergency Stop Butt.
There is double insurance emergency stop switch. In case of any emergency, the worker can press any emergency stop button and the machine will stop working.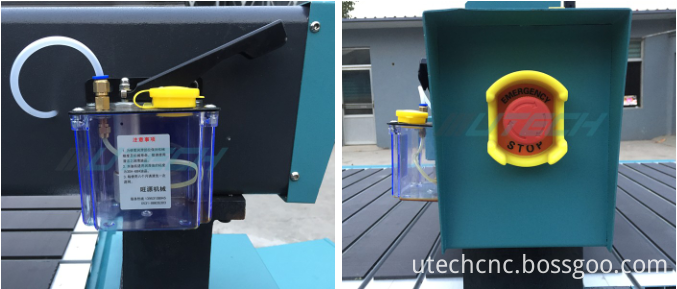 Optional parts:
1). 4.0, 5.5KW water cooling or air cooling spindle
2). Water-Cooling Table-Water tank
3). Control system: Rich auto-A11 DSP control system(option:NC-studio)
4). Inverter: Delta, Fuling Inverter.
5). Motor and driver: servo motor and driver.
6). Dust collector.
Machine advantages:
According to overseas custom demand and market research, the overall design structure of the bed body, we adopt separated type lathe bed structure. Ensuring that after the customer receives the equipment, there's no need to make a complete disassembly and will not affect the operation of the equipment. In this circumstance, we optimized the design structure, then, the final packaging size of the product was saved by 5 cubic meters. Thus saving transportation costs.
1. The machine main body and the machine legs are freely separable when delivery the legs are disassembled and put on the table, which will reduce the machine's package size, then will save the shipping cost.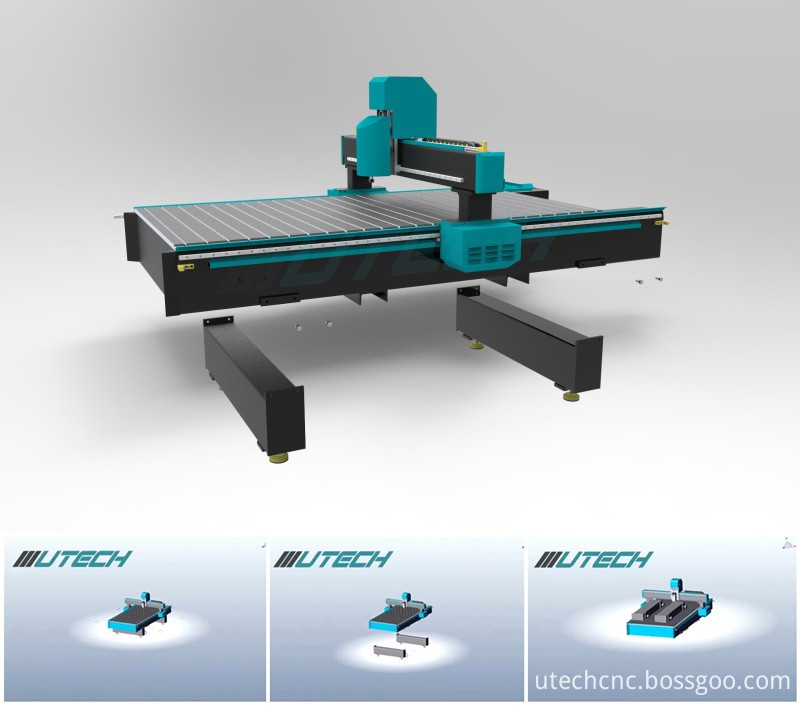 2. The bed is the backbone of a cnc router machine, our machine bed adapts 200*300mm thick wall steel square tube welded together, solid and not deformed. After high-temperature tempering treatment to ensure the best strength and rigidity side arranged structure, heavy column,150*150mm gantry. precision machined and stress relieved so that the foundation remains true and steady over the operational life of the machine. Compared to ordinary machines, it has better stability.

3. The forklift location display of Sesame CNC router machine.
Bed welding process increases the reserved forklift space, highlights two major advantages: First, it can better protect machine body and cargo carrying weight; Second, it's more convenient for customers to load or unload the equipment.
4. The Spindle Mounting Plate of Sesame adapts High Precision aviation aluminum alloy parts T6061/6030, Which are all made by professional CNC machining center. After the oxidation surface and low-temperature annealing treatment, the machine head is lighter and more durable. And the high requirement assembly process ensures the precision of the product again.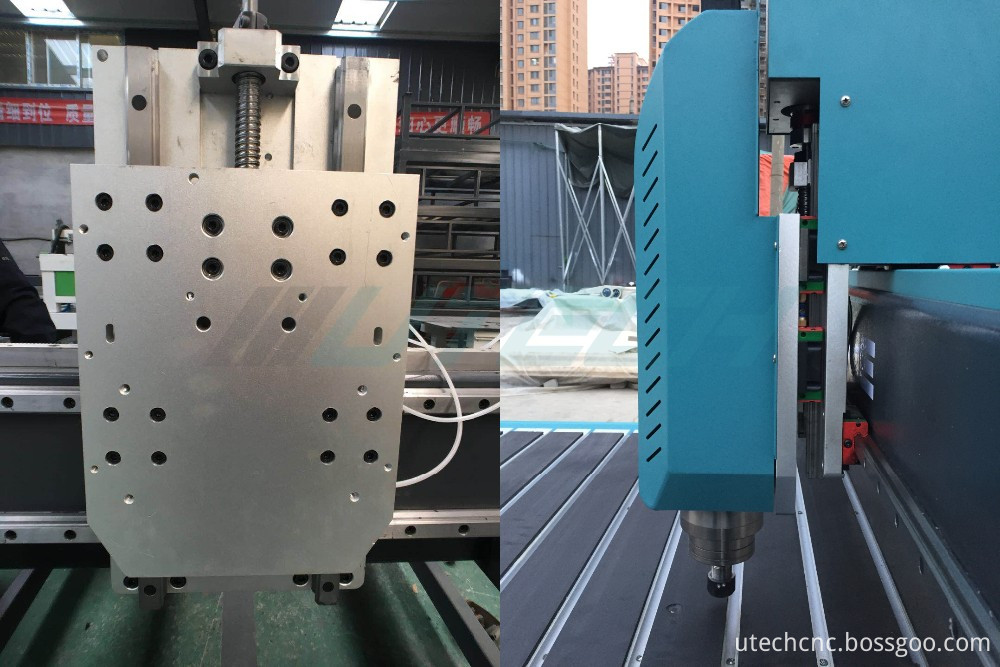 5. Sesame adapts Portable detached optional design control cabinet.
1)Interfacing reaches the purpose of plug and play.
2)Save more space.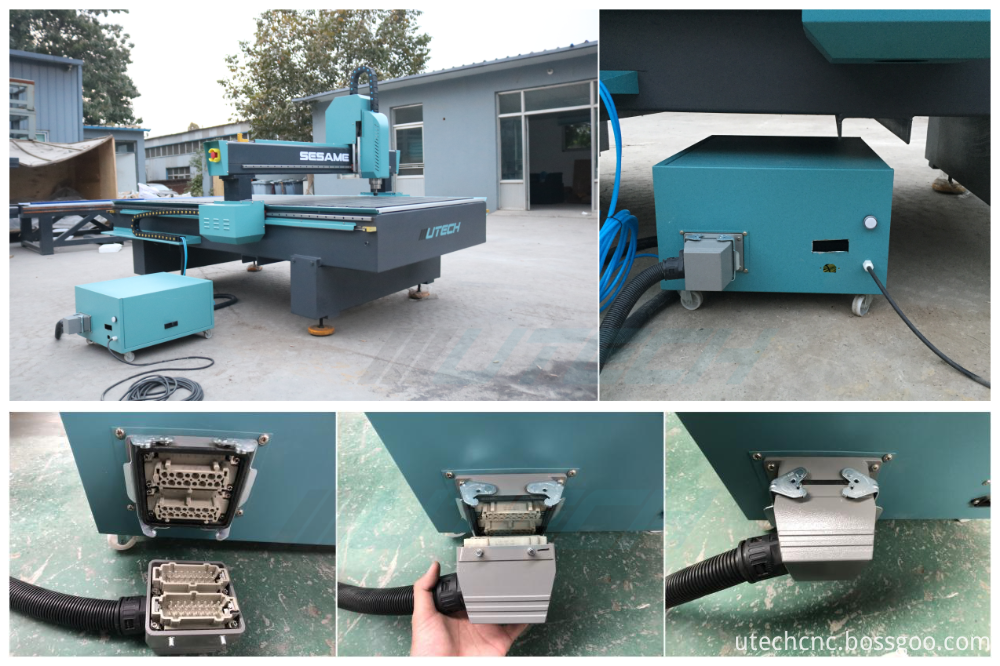 Related Machines
Utech cnc router machine is fully customizable, We have a professional design team and technical person, any machine size and appearance all can be customized for you. UTECH have Cnc Router Series, include Mini Desktop Cnc Router, Advertising Cnc Router, Woodworking Cnc Router, Professional Stone Cnc Router, Sign Cnc Router, ATC Cnc Router; Vision Localization/CCD Series include Cnc Router with CCD, Oscillating Knife Cutter with CCD.
Contact us if you need more details on Computerized Router Table. We are ready to answer your questions on packaging, logistics, certification or any other aspects about Cnc for Sale、Automated Routing Machine. If these products fail to match your need, please contact us and we would like to provide relevant information.
Product Categories : Cnc Router Series > Woodworking Cnc Router